Our 2 year old grandson William, Justice Litter pups, and our Tunis ewes
2007/2008 Puppy Plans
We have two very exciting Tervuren litters planned for Winter 2007 and Spring 2008. Watch this space or email me for details.

Our "Detectives" Search and Rescue Litter
February 2007
This breeding was specifically designed with Search and Rescue in mind.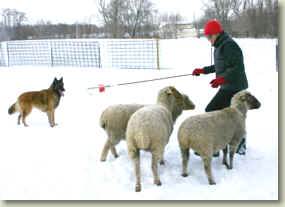 We are pleased to present the Detectives Litter. This was a collaborative effort and co-breeding between BasqueLaine and Big Mtn. Mother of the Detectives is our homebred girl Jo, BasqueLaine-N-Maximum Tres Jolie HT, AKC major pointed. Jo is currently training in herding, and will also start agility training in the near future. Jo's pedigree has strong performance and working merits with near ancestors titled in obedience, herding, agility, tracking, and protection/defense. Jo is a half-sibling to our successful Spies'n Heroes Agility litter including Maxwell, Merlin, and Conner. Jo's mom Marissa, mother of the Spies, has been an outstanding producer of top-notch agility dogs. Jo's maternal grandsire is the French elite stud and French Champion Milton de la Clairiere aux Louves B.Tr. Milton (Marissa's daddy) is out of the famous Femto x Eden cross which was so phenomenal it was repeated 3 times.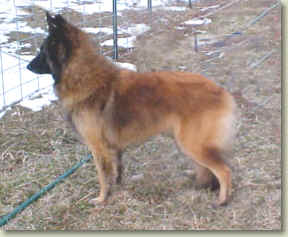 Jo's daddy Toivo is an AKC champion, has his AKC and ASCA herding started titles on sheep and is training in intermediate level herding. Toivo is a son of the elite stud and multi-European Champion Xeros van de Hoge Laer from the highly successful van de Hoge Laer X Litter including Xeros, Xoran, Xweet, and Xugar. Toivo's littermate Thoran has achieved his IPO3 in Holland, and his sister Tess has her agility brevet and is competing at second level agility in Holland. Another Toivo sister Timeless Matiz has passed the Dutch endurance test (UV, comparable to a schutzhund AD) and the mentality test social +. Matiz has been quite successful in the show ring as well. Jo's great-great grandfather on her daddy's side is the famous Int. Champion R.E. Millo van de Hoge Laer IPO3. Millo is known for producing some great working and performance titled offspring and descendants. Like granddad Milton, Jo's maternal great-grandfather, French elite stud and French Champion Emir de Condivicnum, B.Tr, also has his brevet in defense.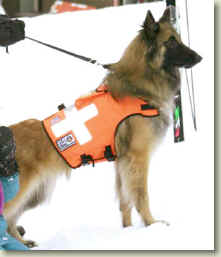 Sire of the Detectives Litter is Kim Gilmore's Search and Rescue dog extraordinaire Brenner. Brenner is more formally known as Group Winning Group Placing Canadian Champion U-WPCH Gaelera Big Mtn Brennerain Can. TD, HIC, CGC, SAR Certified**. Brenner is also AKC major pointed, UKC pointed, and was WD/Select at the 2004 ABTC National Specialty. He is truly beauty and brains in one package, and he has the credentials to prove it! Brenner is the son of the dashing British import Tommy, Am/Can/UKC Champion Bergerac Brigadoon PT TT. Tommy has sired multiple SAR dogs to date. Bren's mom, Gally, is out of the successful Klaar G litter including Gally, Ghosty and Guilder. Bren is a grandson (via Tommy) of the incomparable Carlos, British Champion Opium van de Hoge Laer at Corsini. Carlos was a phenomenal show dog and producer. Brenner's maternal grandsire was Perfect of the Two, foundation male at Klaar Belgians in Canada. Perfect's record as a producer speaks for itself. Brenner's maternal grand dam Wanda is a daughter of French elite stud R.E. Dandy du Chemins des Dames II who was Best of Breed at the French Specialty in 1992. Wanda is a half-sib on Dandy to the well known French producers Fandy Black and Feten de Condivicnum.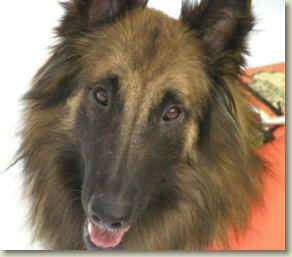 Jo was in fabulous condition after the Justice litter so with the approval of our reproductive vet we bred her on back-to-back seasons. Jo's early Christmas present was a romantic rendezvous in the Big Mountains of Montana. This very exciting working/performance/show pedigree is a lovely cross of French, Belgian, British, Swedish, and Dutch bloodlines. It combines several top winning and/or producing stud dogs and brood bitches in Europe. Click here to view the pedigree. Click here to view Brenner's Photo Gallery. Check out this photo gallery of Jo 8 weeks pregnant having a game of catch with Rick! Click here to go to Jo's page.
**Certified to Flathead County Standards in Avalanche Rescue , Area Search (night time ops, hasty trail, large area), Article Search , Water Search (swift water, open water), Cadaver, Human Remains Detection (area, vehicle, building) and Disaster First Responder (rubble, junkyard, building components) and to the International Police Work Dog Standards in Basic Area Search, Basic Cadaver Search, Advanced Cadaver Search and Trailing


Adults Available
For some prospective owners, an adult dog is a better fit than a puppy. If you are willing to consider an adult Belgian Shepherd one year of age or older, please visit our Rehomes Page to learn more about what we or breeder friends of ours might have available at this time.