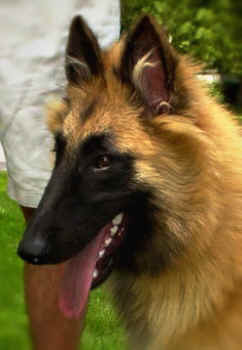 Conner at 7 mos of age
Photo by Darcy Ferrentino

onner is BasqueLaine-Montage Save The World MXJ AX from our Spies'n Heroes litter by George out of Marissa. He lives with owner Darcy Ferrentino of Talisman Belgians and is co-owned by BasqueLaine.
Conner is a mutli-talented dynamic youngster with tons of pizzazz. He is a bold, extremely high drive dog with nonstop intensity, showing great enthusiasm in all endeavors. Conner loves the water and will avail himself of every opportunity to take a swim. Conner has demonstrated his stable temperament by accompanying Darcy to children's therapy group at the facility where she works.
Conner keeps Darcy amused daily with his clownish antics -- sometimes being affectionately referred to as "Austin Powers". ;-) Just ask Darcy about the chicken chasing incident during the weekend of Conner's AKC agility debut. Let's just say he has now earned a new nickname and a new honorary title: the "Caramel Blur", CCX (Chicken Chaser Extraordinaire).
Conner and Darcy are currently busy training in agility and obedience. Darcy is really excited about his future potential. His first weekend in Exc. B he earned his first Double Q, acing both courses with two 4th place finishes! These tough courses had dogs dropping like flies. The Conman has his MXJ and is only 2 Qs away from his MX. Looks like Connor is going to follow in the footsteps of his very accomplished brothers, Maxwell and Merlin. Gotta love those Spies'N Heroes!
Conner is a little over 24" tall of moderate bone and substance. He has a long, well chiseled head with lovely European type. Conner has full dentition and a deep scissors bite. He is balanced with moderate angulation front and rear and is short-backed with a long elegant neck.
Conner is a littermate to Hero, Maxwell, Merlin. and Scully.