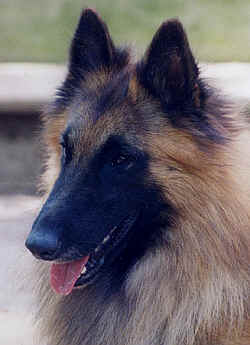 Hero at 29 mos of age
Photo by Kathy Madden

ero is from our Spies'n Heroes litter by George out of Marissa. We co-own Hero with with Kathy Madden of Montage Belgians and Darcy Ferrentino of Talisman Belgians. Hero lives with and is adored by Darcy, who also shares her home with Hero's litter brother Conner. (Why have just one Spy'n Hero when you can double your fun with two!)
Hero is a real character who approaches all activities with gusto and enthusiasm. When not a work or play Hero is calm, laid-back, and extremely well mannered. Hero is great with kids of all ages and is also excellent with cats and other dogs.
Hero has already shown good instinct and talent on sheep by qualifying for his Canadian HT his first time out with trainer/handler Lynn Leach. Darcy is looking forward to herding with Hero here in the U.S. in the near future. They're also doing some agility training -- an activity the Spies'n Heroes excel at.
Hero is compact and closely coupled with moderate, balanced angulation and lovely arch of neck. He has lovely breed type and expression. Hero has full dentition and a scissors bite.
Hero is the sire of Montrage and BasqueLaine's Daredevil Litter out of Champion Montage Jazz Singer PT, "Torchy". This litter includes our handsome young guy Danger and littermates Aspen, Kelda, Zach and Taylor.
Hero is a littermate to Conner, Maxwell, Merlin, and Scully.