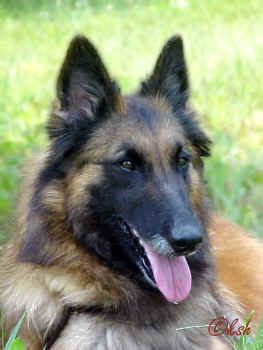 Marissa at 4 yrs of age
Photo by Kelley Hoffman

arissa was imported from Sweden as a puppy from Carina Tolge-Bergkvist and Rolf Bergkvist of Kennel Mahagonny. She was the most adorable, friendly, outgoing pup imaginable and she quickly stole our hearts. Marissa will always be my special girl here at BasqueLaine.
Marissa is a happy fun-loving dog who enjoys nothing better than the company of people. She is totally loyal and devoted to our entire family. To visitors/strangers at home or away from home she envisions herself as "Miss Congeniality".
Marissa is a real thinker and problem solver and can sometimes be quite mischevous and manipulative in getting her way. When not at play Marissa is very calm and loving. Laps are much preferred to the floor. Marissa gets along famously with other dogs and cats. She adores children of all ages and sizes and is the unanimous favorite amongst our kids and our grandkids Kayl and Will.
Marissa has a couple of amusing quirky (but useful) behaviors she often passes on to her offspring and down the line. Her love of crawling into dark, tight spaces (i.e. under the bed which is affectionately referred to as the bat cave) is a favorite. She delights in a game of surprising other dogs as they unsuspectingly walk by. Granddaughter Mission has inherited this gene and watching the two of them under the bed working the rest of the pack is definitely teamwork at it's best -- not to mention the human entertainment value. ;-) Marissa often produces this willingness to squeeze into very small/tight spaces; no claustrophobia with these guys. We've found pups down from her aren't inappropriately negatively reactive to tactile stimulation. They easily accept a lot of body contact with objects, obstacles, the elements, natural "barriers" and/or to accept a feeling of tight restraint and still be willing to press on and perform the task at hand. In addition to her "under the bed" gene, the smiling gene is another we have found is being passed down the line. How is smiling useful? It's a very expressive trait and it warms your heart. Once you have a smiler you get it. ;-)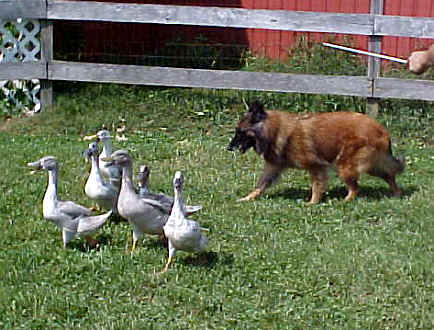 Marissa's first time on ducks at 7 yrs of age
Photo by Kelley Hoffman
Marissa is a petite 21" in height of bone and substance commensurate with her size. She is very feminine with lovely breed type and vibrant red color. Marissa has a deep scissors bite. She is balanced with good angulation front and rear and is very compact and closely coupled. Marissa's strong suit is as a brood bitch. She has always been an awesome mother with her puppies. She has a very natural instinctive style of rearing her puppies. She moves them around a lot in her mouth, likes to count and arrange them to suit her fancy. When it comes time to wean she actually regurgitates food for her puppies. (That's my cue to start weaning). She continues to be interested in her puppies after they are weaned, including teaching them things, and disciplining them at the appropriate ages -- building up the confidence of the more submissive pups in the pack and reminding the more dominant pups they can't go around picking on the softer ones. ;-)
Marissa consistently produces better than herself in structure, refines type a little when bred to more moderate type males, so we almost always get beautiful heads and expressions out of Marissa whether more moderate in type or more refined in type. She consistently produces an extremely low percentage of any health issues whatsoever, and routinely produces awesome temperaments suitable for a variety of working/performance venues. She especially produces some truly awesome agility potential offspring for the serious weekend warrior. The body type, size, muscle mass, athleticism, and drives and intelligence she produces bring a tremendous potential for speed, usually typically accompanied by a "daredevil" attitude.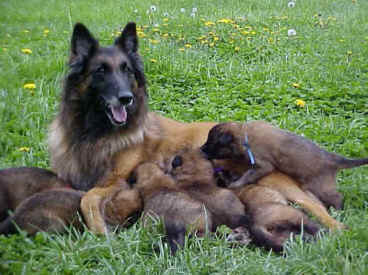 Marissa at 5 yrs of age with the V Litter, Ronin on top (blue ribbon)
Photo by Kelley Hoffman
Marissa tends to produce offspring in the lower end of the size range both males and females. Her sons are typically between 23"-24.5" at maturity, her daughters are typically 21-22.5" at maturity. She does occasionally produce taller or shorter than that depending on the mate, but not often.
Marissa's oldest litter the Spies'n Heroes are proving Marissa's worth as an outstanding agility/performance producer.
So far two of the Spies have accomplished both MACH and ADCH agility championships, one of them also has his NATCH, an invitation to the Purina Incredible Dog Challenge, Final Round in the AKC Agiity Invitational 2007, and respectable placements at AKC National Agility 2007. Another Spy has his AX MXJ and will continue on towards his MACH.
In addition to agility, the Spies are also titled in Rally, Dock Diving, Water Rescue, as well as some being therapy certified. Marissa also has several younger offspring training in agility, rally, obedience, herding, flyball, and tracking. These kids will be making their marks in the future.
Marissa is the dam of:
Pages for all the Run for the Roses and Gangsters litters coming soon.
Marissa's first time on ducks at 7 yrs of age
Photo by Kelley Hoffman
Marissa's final litter born May 17, 2007 is sired by our homebred boy Kieran. While the Serendipity Litter was an unplanned breeding this time around, I had attempted to breed Marissa to both Thrym and Kieran (for an AKC approved multi-sired litter) in April 2006. Obviously I wanted puppies from both sires, but DNA showed all the puppies were Thrym's -- the Gangster Litter. I'm actually thrilled and delighted to have these Kieran and Marissa pups. I feel like an unexpected and very special gift dropped into my lap hence I dubbed them the Serendipity Litter. I expect awesome performance ability from the Serendips.
Kieran is a George great grandson (George is sire of the Spies'n Heroes with Marissa), a 1st cousin to Charm on the Montage Jazz Litter (via their full sib parents, Teva and Torchy -- Charm is sire of the Run for the Roses litter with Marissa), a 1st cousin to Thrym (their mothers Iserah and Imoir are littermates -- Thrym is the sire of the Gangsters with Marissa). While still quite young the Gangsters are also showing a lot of promise in performance venues. All of these sires plus Toivo were chosen for Marissa because we knew these pedigree crosses would produce good working/performance ability.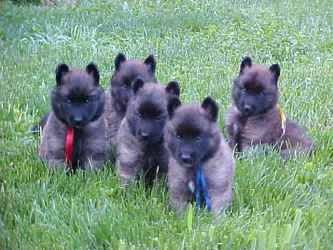 The Gangsters Typical ears for Marissa kids at 4 wks
Photo by Kelley Hoffman
As a general rule we do not typically breed our (solely owned) girls this frequently, but Marissa is very special, and she produces so well in working/performance ability, general temperament/demeanor, health, and looks, it's simply justified as part of our future plans and direction of our breeding program. After all my years in Belgians Marissa remains my favorite, mainly because of her awesome temperament and the athleticism, speed, drives, and stability she produces in her offspring. Eventually the cornerstone and foundation of my entire breeding program will be centered around Marissa, so I want as many offspring of hers and lines to her as possible to move on with over the next several years. She also has an exceptional track record with her offsprings' health, which is sometimes hard to come by in a key breeding candidate.