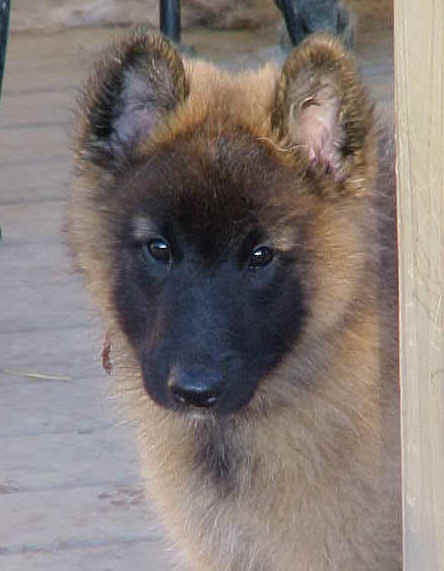 Rigel at 8 wks
photo by Kelley Hoffman

igel is from our T litter by Toivo out of Marissa. He lives with the Feldman family in Kentucky and is co-owned by BasqueLaine.
Rigel is the Feldman family's first Belgian. They hope to try conformation, obedience, and agility with him when he's older. In the meantime he's just doing puppy things and enjoying the company of his owners and their two boys plus his four-legged buddies: a couple of Maine Coon cats and a little American Eskimo dog.
As a baby puppy Rigel was stunning; short-backed with tiny little ears set high on top of his head, lovely color and masking, beautiful expression, good angulation front and rear, and pretty little dark almond-shaped eyes. We look forward to watching Rigel grow up to see how he turns out. Updated photos of Rigel will be added in the near future.
Rigel is a littermate to Jo, Nicky, and Ciara, and a full sibling to Kruiser, Ronin, Anubis, Lacey, and Rosie.