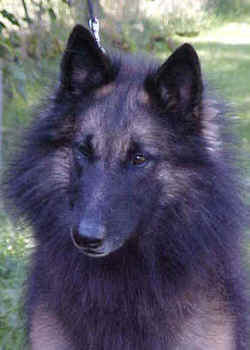 Toivo at 29 mos of age
Photo by Kelley Hoffman

oivo came to us from the Netherlands at one year of age in May 2002. We are absolutely thrilled to have him and we thank Angela and Bert Pos,.kennel Of Dark Brightness for allowing him to come to America. Toivo is currently at "herding camp" for a year or more, training with Tammy van Deusen in Indiana. He is owned by BasqueLaine and is co-owned with Kathy Madden of Montage Belgians. After that Toivo will return home and in the future he'll be visiting Montage to continue his quest for herding titles. Toivo enjoys having multiple moms and takes being shared and traveling back and forth in stride.
Toivo's pedigree is a blend of Dutch, Belgian, and French bloodlines. His sire is the lovely Neth/Lux Ch. pE s.r. Xeros v.d. Hoge Laer from the highly successful cross of French Elite Stud R.E. Lutin de la Clairiere aux Louves to Neth. Ch. R.e. Tee vd Hoge Laer. Toivo's dam is p.E. Elegant Shannon of Dark Brightness, CG1 VZH UV, a granddaughter of the famous Bel/Neth. Ch. R.E. Millo vd Hoge Laer IPO3. Toivo's pedigree includes a number of dogs with working/performance titles.
Toivo is a happy exuberant boy who is just a delight to be around. He is a natural retriever and is always up for a long game of fetch with a ball or frisbee. When not at work or play Toi has a very calm, steady demeanor. He's great with our kids and excellent with cats and other dogs. He's totally stable with absolutely no sound or sight sensitivities. Toivo is highly obedient and has great enthusiasm and high focus for performance activities.
Toivo finished his AKC championship fairly easily. He was shown 6 times as a three year old and was awarded Winners Dog and Best of Winners on 4 of those occasions for three majors. Then we took a break for herding training and trialing. Toivo recently returned to the conformation ring as a very handsome and mature 5 year old and finished quickly in 4 shows with three consecutive Best of Breed wins topped off by WD/BW/BOS for a 4 point major at the Columbus Ohio shows in November 2006. Special thanks to Toivo's other "mom", Kathy Madden, for presenting him so beautifully when he was on the East coast, and to our good friend, Sherri Wilmoth, for presenting him since he's been back home with us.
Toivo and Kathy made their herding debut in May 2004, earning Toivo's PT title. In July 2004 Toivo picked up his first HSAs leg good for fourth place, then in November he picked up his 2nd and 3rd legs good for third and fifth place to finish his HSAs title in only two trials. Special thanks to co-owner, Kathy, for training/titling Toivo!
Toivo is 25 inches tall of excellent bone and substance. He's very masculine, flashy, and pleasing in type. He is balanced with moderate angulation front and rear and is short-backed with a very pleasing outline/profile. Toivo is very sound moving, extremely light on his pretty little cat feet. He has an abundance of stand-off mahogany red coat of excellent texture. Toivo has full dentition and a level bite.
Toivo is the sire of our T litter and our V Litter, both out of Mahagonny's Rites of Passage. His offspring from those litters include Rigel, Jo, Ciara, Kruiser, Ronin, Anubis, Lacey and Rosie.