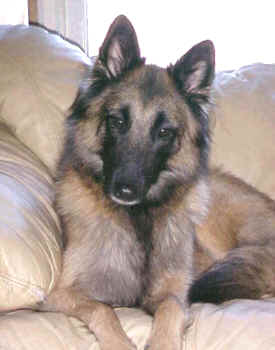 Jo at 3.5 yrs
photo by Kelley Hoffman

o is from our T litter by Toivo out of Marissa. She formerly lived with Rob and Laura Maxim in BC Canada but came back home to BasqueLaine in early 2005. We are very pleased to have Jo back. She reminds us very much of her mother, Marissa, but we see a lot of her daddy Toivo, in her as well.
Jo's pedigree is a lovely combination of successful Swedish, Dutch, French and Belgian bloodlines, boasting of a number of working/performance titles as well as conformation titles. She's linebred 2X on the famous Femto x Eden cross via French elite stud R.E. Lutin de la Clairiere aux Louves on her father's side, and French s.r. Milton de la Clairiere aux Louves B.Tr. on her mother's side. She's a great granddaughter of French elite stud Fr. Ch. Emir de Condivicnum B.Tr., and a great great granddaughter of the famous Bel/Neth Ch. R.E. Millo vd Hoge Laer IPO3.
Jo has an outstanding confident temperament with lots of working drive. She is totally stable and fearless, completely unfazed by everything! Jo is highly toy and ball driven, and she'll continue to retrieve and fetch as long (actually longer) as you can. She is also an avid swimmer and she delights in trying it catch birds in the air. ;-) Check out this photo gallery of Jo having a game of catch with husband Rick, 8 weeks pregnant with the Detectives. Jo is also SUPER fast, and she has a daredevil attitude towards work and play, especially if it involves defying gravity. ;-) Jo has begun serious herding training. She has her HT title and will be testing for PT in the spring. She is also started in agility. Jo made her conformation debut in February 2006 at the Indy Winter Classic where she was Winners Bitch and Best of Opposite Sex on Saturday for a 3 point major, and Reserve Winners Bitch on Sunday to a 3 point major. She will be back in the show ring soon. Jo is happy, outgoing, and friendly with everyone she meets. She is excellent with children and gets along well with other dogs.
Jo is a little over 22" tall with a nice amount of bone and substance. She has lovely angulation front and rear, good length and arch of neck, good topline, and a pretty outline. Jo's movement is to die for. She's very smooth, light and effortless in motion. Jo has a beautiful red/mahogany coat of correct texture with nice blackening. Her head is of moderate type with nice head planes, dark almond eyes, nice ear set and good masking. Jo has a scissors bite with full dentition.
Jo is a littermate to Rigel, and Ciara. She is a full sibling to Kruiser, Ronin, Anubis, Lacey, and Rosie.
Jo has produced beautiful, talented offspring. She is the dam of the Maximum G Litter including Giuseppe, and the BasqueLaine & Maximum Time Litter including our Griffey, and his littermates Jackson, Gracie, and Captain.
Jo is also the dam of the Genesis-BasqueLaine Justice litter whelped/raised by Kate Stephenson, and co-bred by me. The Justice Litter was born July 13, 2006 in Marion OH. The Sire is Kathy Madden's George, U-BISS Am/Can/UKC Champion Belamba Seaflower Montage CD PT JHD TT CGC TDI P-BAR, sire of our Spies'n Heroes litter with Jo's mom Marissa. The Justice Litter is very similar to the Spies in looks and character. New pages of the Justice kids coming soon!
With the approval of our reproductive vet we bred Jo on back-to-back seasons and on January 17, 2007, the Detective Litter co-bred with Kim Gilmore of Big Mtn Belgians was born. Watch for details about this very exciting litter growing up, sired by Kim's Search and Rescue (SAR) dog extraordinaire Brenner. This breeding was designed with Search and Rescue in mind. Four pups from this litter are already training for future operational SAR status, and a couple more will be active in performance venues. A few will also be shown in conformation. Meet the Detectives.