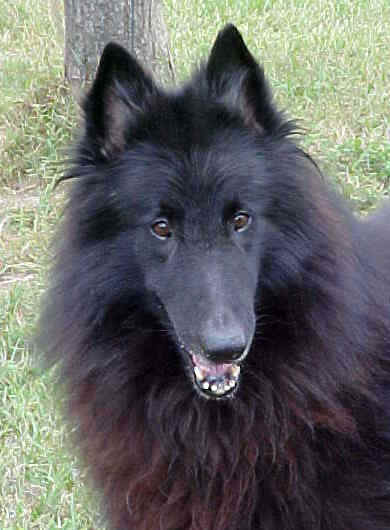 Gali at almost 8 yrs of age
Photo by Kelley Hoffman

ali was bred by Sherri Wilmoth of Sarron Belgians and Dennette Cockley of SumerWynd Belgians. He resides here at BasqueLaine and is co-owned with Sherri. Gali has the distinction of being our first Groenendael, and the sire of our first Groenendael litter. Gali's pedigree is a lovely blend of Johnsondale and contemporary European bloodlines. We feel privileged that his breeders entrusted us with this pedigree. Thanks Sherri & Dennette!
Gali is a very sweet and affectionate boy of calm demeanor who has never met a stranger. He adores our children and they feel the same way about him.
He's quite the lover, liking nothing better than to be draped across laps getting pets. He gets along great with other dogs, big and small. Gali is just a happy, easy-going, go-with-the-flow kind of boy. He LOVES care rides. He's a delight to live with, devoted, loyal -- the best companion one could ask for. We look forward to testing his herding instinct when we get our sheep and ducks in a few months. I have a sneaking suspicion he might have a calling for herding. Right now his job is to keep the male dogs around here in line, which he does quite admirably.
Gali is a little over 25 inches tall of medium build. He has full dentition and a level bite. He is balanced with good angulation front and rear and is short-backed with a pleasing outline/profile. He has a moderate, pretty headpiece and expression with lovely ear set and carriage. He has ample coat, pretty little cat feet, and light and effortless movement.
Gali is the sire of our "R" litter out of Nessie Blackwater de la Prairie de la Sommerau including Gigi and Binx.


~ At stud to approved bitches~

SIRE: Gr. Placing AmCh Mawmyth Iron Ikon
DAM: AmCh SumerWynd Conversation Piece, CGC

Hips OFA Excellent
Elbows OFA Normal
Eyes ACVO Clear 2002
Seizure Free at 7 yrs of age
Thyroid normal (MSU)
DOB: 05-03-1997

Gali at almost 8 yrs of age
Photo by Kelley Hoffman