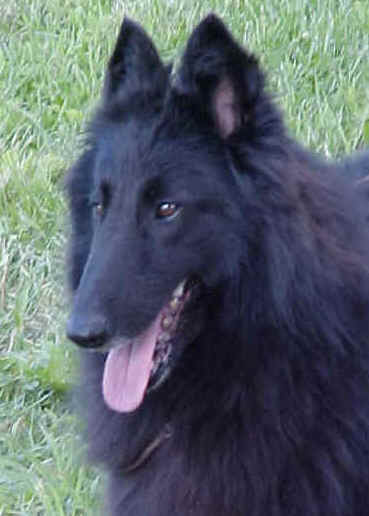 Gigi at 4.5 yrs of age
Photo by Kelley Hoffman

igi is from our "R" Groenendael Litter by Gali out of Nessie. She lived here at BasqueLaine from the time she was born until 4.5 years of age. Gigi earned the label of resident "naughty girl", demanding to be the center of attention to the point of sometimes being a pest about it. That's precisely why we love her and how she endeared herself to us. Now Gigi makes her home with the James family in California, where she is their chief bed warmer and sofa princess.
Gigi's pedigree is a nice blend of top American and European bloodlines including heavy French and Dutch influences both Tervuren and Groenendael.
Gigi is totally devoted and loyal to family and is ultra affectionate with those she loves. We've always found it irresistable when she flashes that toothy Belgian grin.
Gigi has a fairly high activity/energy level, but she also knows how to kick it down into "low gear". She is athletic, fast, and agile, always with grace and style. Like her sisters she is a beautiful effortless jumper and has a lovely flowing gait.
In late 2002 Gigi suffered a serious foreleg fracture that required major orthopedic reconstructive surgery. Her injury left her with a slight limp, so we were not able to show her in conformation.
Gigi is 22" tall.of bone and substance appropriate for her build. She has lovely breed type and expression with a long, lean chiseled head and dark almond eyes. Gigi is well-balanced with nice angulation front and rear and beautiful length and carriage of neck. Gigi has a level bite with full dentition.
Gigi is a littermate to Binx.
~Gigi~

SIRE: Sarron SumerWynd Galileo
DAM: Nessie Blackwater de la Prairie de la Sommerau

Hips OFA Excellent
Elbows OFA Normal
Seizure Free at 4.5 yrs of age
DOB: 11-03-2000

gigi's photo gallery coming soon

Gigi at 4.5 yrs of age
Photo by Kelley Hoffman