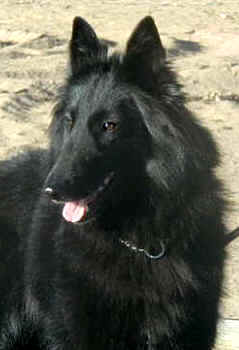 Binx at 2 yrs of age
Photo by Laura Maxim

inx is from our R Groenendael Litter by Gali out of Nessie. She is currently living with us, and is co-owned by Laura Maxim of Maximum Belgians. Binx is now retired from our breeding program, and we'd love to find her a special home where she can be the only princess of the house. Binx is not good with cats or livestock.
Binx' pedigree is a nice blend of top American and European bloodlines including heavy French and Dutch influences both Tervuren and Groenendael.
Binx is a real sweetheart to all she meets. She can be extremely soft and gentle with young children one minute to a zippy dynamo the next. She is very athletic, fast, and agile, but quite graceful. She is a beautiful effortless jumper and has a gorgeous flowing gait.
Binx was shown on a limited basis in Canada with some success including a Best of Breed win from the classes for her first CKC point. Unfortunately neither Laura nor I ever managed to get her back in the show ring.
Binx is 22" tall.of bone and substance appropriate for her build. She has lovely breed type and expression. She is compact, closely coupled, well-balanced with nice angulation front and rear and beautiful length and carriage of neck. Binx has a deep scissors bite with full dentition. Binx is great with people and other dogs, but she's not good with cats or livestock. She fancies herself a huntress, and has tons of prey drive. She'd make a great agility dog with her athleticism, build, and go-get-em attitude.
Binx is the dam of our U Groenendael Litter born May 27, 2003, including Hula, Fanci, and Bear. She is also the dam of Maximum and BasqueLaine's H Litter. including Halston and Abby. Binx' last litter was our Big Play Makers Litter born in 2006, sired by Johnsondale Jory son, Can. BISS Am/Can Champion Sarron Obvious Choice "Harley". These four boys are named after the Cincinnati Bengals Big Play Makers: Rudi Johnson, Chad Johnson, Carson Palmer, and TJ Houshmandzadeh. Watch for individual pages of Rudi, Chad, Carson and TJ coming soon. Binx is a littermate to Gigi and Fanci.
~Retired Brood Bitch~

SIRE: Sarron SumerWynd Galileo
DAM: Nessie Blackwater de la Prairie de la Sommerau

Hips OFA Good
Elbows OFA Normal
Eyes ACVO Normal 2006
Seizure Free at 6 yrs of age
DOB: 11-03-2000

binx' photo gallery coming soon

Binx at 2.5 yrs of age
Photo by Kelley Hoffman