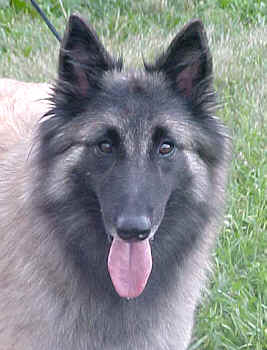 Promise at 31 mos
photo by Kelley Hoffman

romise is a gray Tervuren from our S Litter by Phonzie out of Baby. She resides here at BasqueLaine and is co-owned with Linda Fung DVM, Blackwater Farms Belgians.
Promise has an outstanding pedigree primarily of French bloodlines. She is a granddaughter of the lovely gray French stud, Jour-J de Condivicnum, on her dam's side and a granddaughter of another well-known French stud, s.r. Master Blaster de Condivicnum, on her sire's side. Her granddams are half-sibliings on Heden de la Clairiere aux louves from one of the highly successful crosses of Femto du Bois du Tot and Eden de la Clairiere aux Louves.
When it comes to energy level, Promise is every bit her mother's daughter -- always in motion, full of enthusiasm and eagerness for whatever comes next. She also has a clownish side (like her mother) that often keeps us in stitches.
Promise is a "go with the flow" kind of gal. She gets along well with all the other dogs, is tolerant of the cats, and is great with children of all ages. She is extremely devoted, loyal, and affectionate to family.
Promise is a compact and petite 21" tall with excellent bone and substance. She is extremely agile and athletic with her small but powerful build. Promise has lovely breed type and expression with a moderate headpiece and black almond eyes. She is well-balanced with nice angulation front and rear. Promise has a scissors bite with full dentition.
Promise may be shown in conformation when she's older and more mature. We've decided not to use Promise for breeding.
Promise is a from our S Tervuren Litter and is a littermate to Sharif.