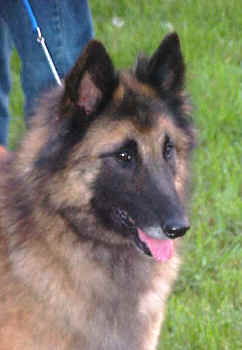 Baby at 3 yrs of age
Photo by Kelley Hoffman

aby currently resides here at BasqueLaine, co-owned with her breeder, Linda Fung DVM of Blackwater Farms Belgians. Baby was retired from breeding after only one litter. She has a couple of siblings who had possible seizure episodes after Baby's litter was born. Both Linda and I decided it was best not to breed her again. None of Baby's littermates were used for breeding for the same reasons. Baby is going to her new home soon where she can be the center of attention, and she'll be close by so we'll get to see her often.
Baby has a lovely pedigree that combines some of the best of contemporary Belgian and French bloodlines. Her sire is the lovely gray French subject recommended stud, s.r. Jour-J de Condivnicnum out of the highly successful Emir x Brennie cross. Her dam is Juby de la Prairie de la Sommerau, a R.E. Pavot van de Hoge Laer daughter out of a Femto x Eden daughter, Heden de la Clairiere aux Louves.
Baby's energy and enthusiasm is boundless. She likes to be kept busy doing things and is seemingly always in motion. Baby has an exuberant clownish side to her and she keeps us amused with her antics.
Baby is approximately 23" tall of substantial bone and substance. She has a very powerful and athletic build for her size. Baby has full dentition and a deep scissors bite, lovely rich red color and beautiful black almond-shaped eyes. She is balanced with good angulation front and rear and is closely coupled with a pleasing outline/profile.
Baby is the dam of our S Tervuren Litter by Am/UKC CH Blackwater's Phenomenon including Sharif and Promise.

~ Retired Brood bitch~

SIRE: s.r. Jour J de Condivicnum
DAM: Juby de la Prairie de la Sommerau

Hips/Elbows x-rayed clear
(prelim @ 21 mos)
OFA certs. pending
Eyes ACVO clear 2005
Seizure Free at 7 yrs of age
DOB: 05-02-2000

baby's photo gallery coming soon.

Baby at 3 yrs of age
Photo by Kelley Hoffman