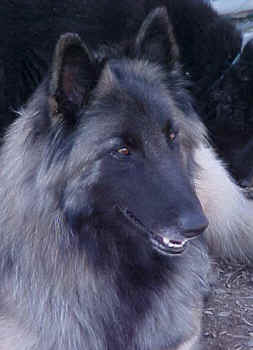 Dusty at 31 mos
photo by Kelley Hoffman

usty is a lovely gray female we imported from Canada as a puppy from Laura & Rob Maxim, Maximum Belgians. Dusty is co-owned with her breeder, Laura Maxim, and Renee Croft of Images Belgians.
Dusty has an impressive pedigree combining French and Swedish bloodlines. Her dam is the lovely "Reba", Can. Ch. Blackwater Puttin on the Ritz HIC. Reba is out of the highly successful Blackwater breeding of French import Am/UKC Ch. Olim de la Tangi Morgane to French s.r. Jody de la Prairie de la Sommerau, dam of multiple Best in Show winners. Dusty's sire is the very handsome Swedish import "Nate", Am. Ch. Mahagonny's Unforgettable HT PT JHD.
Dusty has a very exhuberant and youthful personality. She enjoys playing with her toys and she especially LOVES to squeek her squeeky toys, over and over and over again! Dusty is very sweet, affectionate, and loving with family. She is good with children and gets along great with all our other dogs. Dusty can sometimes be hard-headed and stubborn with a mind of her own. She's a master at the "who, me?" look -- apparently she has an imaginary naughty twin sister who likes to steal socks and shoes, and shred things made of paper when she thinks no one is watching. ;-)
Dusty is a little over 23" tall with correct bone and substance. She is well balanced with nice structure -- great front and rear angulation, nice length of neck, good topline, short-backed, lovely outline. She has nice movement coming, going, and from the side. Dusty has beautiful breed type and expression with a moderate headpiece, good head planes, nice ear set, almond eyes, and good pigment and masking. Dusty has a level bite with full dentition.
Dusty is the dam of our Silver'n Gold Litter including Chance, Lance, Kodi, Jazz and Sofia, and Maximum's Grey Litter including Sacha, Lily, Sterling, Rocky, and Data.
Dusty is a littermate to "Blaze" Can. Champion Maximum Everlasting Flame, sire of Giuseppe and also sire of Griffey, Gracie, and Jackson from our Time Litter co-bred with Maximum Belgians.
Click here to visit Dusty's Page at Maximum.